Side glow emitting twinkling fiber is an innovating fiber optic lighting product that uses PMMA fiber optic,polymer optical fiber,plastic optical fiber to achieve brilliant and distinctive sparkling effect without any noticeable reduction in the intensity of the light throughout entire length of PMMA fiber optic.
Its revolutionary design uses advanced LASER technology to cut the fibers along its length in regular distance(15mm, 30mm, 40mm)during the manufacturing process which results in an amazing 'sparkle' effect once the fiber is illuminated.
The side glow sparkle twinkling PMMA fiber is designed for decorative lighting applications such as chandeliers, light curtains, window displays, multi-sensory environments and feature lighting.
Typical Applications:
• Chandeliers
• Lighting curtains/screens
• Window displays
• Feature lighting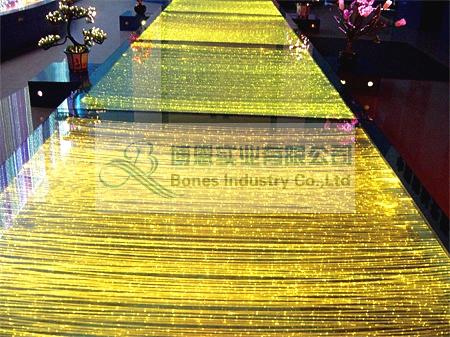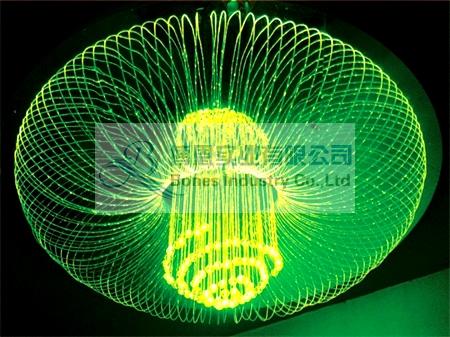 Ordering Information:
Item

Part Number

Fiber Strands*Dia

Cable Dia.

(mm)

Spool Length

(m)

Remark

Side Light

Sparkle Fiber

SF-750

1*0.75mm

N/A

2700

Bare Fiber

SF-1000

1*1.0mm

N/A

1500

Side Light

Sparkle Cable

SCV-750-1

1*0.75mm

1.6

2700

Sheathed with UV stabilized clear PVC jacket

SCV-750-3

3*0.75mm

3.0

450

SCV-750-4

4*0.75mm

3.5

450

SCV-750-7

7*0.75mm

4.0

450

SCV2-750-1

1*0.75mm

1.6

2700

SCV2-750-3

3*0.75mm

3.0

450

SCV2-750-4

4*0.75mm

3.5

450

SCV2-750-7

7*0.75mm

4.0

450

Note:

1. Regular dot marking distance: 15, 30, 40mm or customized;

2. Fiber strands can also be customized;